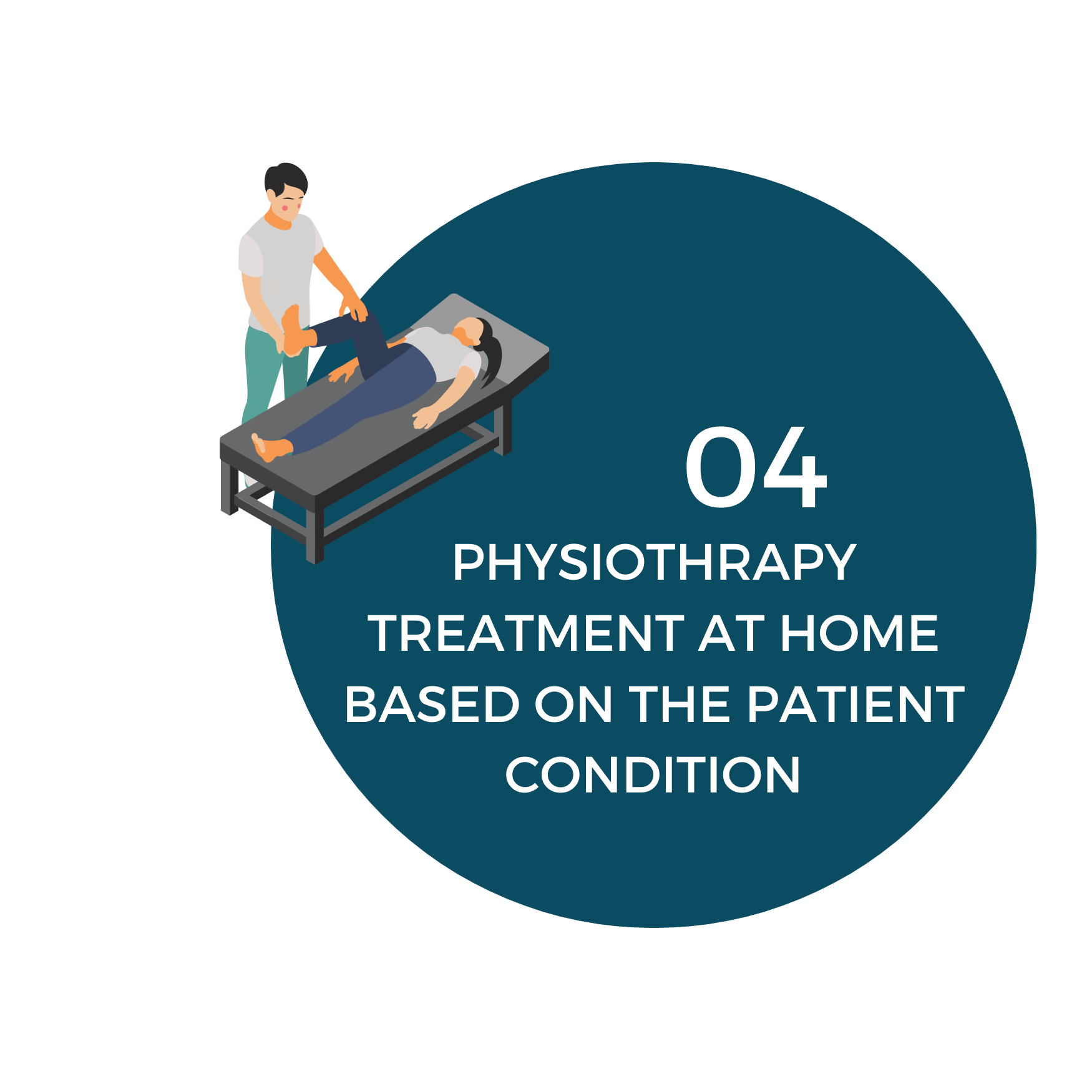 Physiotherapy at Home Dwarka Delhi
This at-home physiotherapy service is designed to make life easier for our patients. It is customer-centric, empathetic, understanding, and compassionate.
At KALP HEALTH CARE, we want to make sure that you receive the best possible service. That's why we offer a few different ways for you to get in touch with us.
You can either book an appointment on our website or simply dial +91-8800326973. We'll have one of our executives get in touch with you and understand your concern.
Once you reach out to us, one of our qualified experts will visit your home for an assessment. They will then initiate the therapy based on what they observe. You can rest assured that you are in good hands with our team.
We will monitor your progress over time and recommend next steps if necessary.
Why choose home physiotherapy over
clinics or hospitals?
Time-saving: We understand that your time is precious. That's why we offer physiotherapy at home – so you can save time travelling and get the treatment when it suits you best.
Lucrative: At-home physiotherapy can save you money in many ways. You can avoid travel costs, consultation fees, and more. Home physiotherapy can also be more convenient for you and your schedule. Our team of physiotherapists are here to support you on your journey to better health, and we're happy to answer any questions you may have about at-home care.
Comfort zone: Being in a familiar and relaxed setting is often one of the most comfortable places for people to receive treatment because it helps them feel at ease. When people feel comfortable while getting treatment, they tend to recover more quickly with positive results.
Customised treatment: At-home physiotherapy in Delhi offers patients the opportunity to get customised treatment and care from a professional. This is especially beneficial for those who may have difficulty communicating their needs or who need specific solutions for their individual situation. At-home physiotherapy allows patients to get the best possible care for their needs without having to worry about transportation or communication difficulties.
Home care physiotherapy has many benefits. Patients receive personalised treatment that helps them heal more quickly. There are many physiotherapy services available, but it is important to select the best one for your needs. You can also find them online, with the same price and facilities, and some new technologies.
What are the physiotherapists credentials?
At KALP HEALTH CARE, we understand that choosing the right physiotherapist is an important decision. That's why we only work with the best of the best. All of our physiotherapists hold a BPT / MPT degree in physiotherapy from a recognised university. They possess a thorough understanding of a variety of physiotherapy services in addition to extensive practical experience. With our team, you can rest assured that you're in good hands.
Is it manual therapy or advanced therapy
that they use?
At our facility, we specialise in helping our patients recover from their injuries as quickly as possible. We understand that every patient is different, and we offer both manual and advanced therapy to create an appropriate workout plan for each individual patient based on their condition. No matter what our patients are dealing with, we are dedicated to helping them get back on their feet and live their life to the fullest.
Do they carry modalities with them when
they travel?
If the patient's health requires it, we will bring the necessary treatment modalities and workout equipment, such as ultrasound, IFT, TENS etc. We understand that being diagnosed with an injury or condition can be overwhelming, so we do everything we can to make the process as easy as possible for our patients. We arrange all the necessary tools and accessories for the treatment after speaking with the patient to get a better understanding of their health.
How long are the treatment sessions?
We understand that every patient is different. That's why we take a custom approach to each of our patients' needs. We want to get to the root of the problem so that we can put together a realistic and achievable strategy for helping our patients reach their fitness goals. Depending on the situation, a typical session might last around 45 to 50 minutes. But ultimately, it's not about the clock; we'll stay as long as it takes to get the job done right.
How many sessions are included in my
treatment plan?
It can be tough to gauge how long a patient's treatment will take without having all the information about their health situation. But don't worry, we'll be able to give you a more accurate estimate after the first appointment. Our number one priority is making sure patients heal completely and are happy with their treatment.
Will the same physiotherapist conduct my
therapy every time?
At KALP HEALTH CARE, we always put our patients first. We know that everyone's needs are different, which is why we make sure to tailor each session specifically for you. We also understand that it can be difficult to switch therapists, which is why we do our best to make the transition as smooth as possible. You can be confident knowing that we're always looking for ways to improve our clinic and provide you with the best possible physiotherapy.
What am I to wear throughout the
procedure?
We want you to have the best experience possible during your time at our clinic. We understand that coming in for treatments can be anxiety-inducing for some people, so we do everything in our power to make sure you feel comfortable and relaxed. You can wear whatever you feel most comfortable in – just be sure that the area the therapist will be working on is easily accessible. For example, if you're seeing our physiotherapist for lower back pain, they'll need to be able to reach the lower back easily for both machine application and manual treatment.
How do you handle cancellations?
We understand that things come up and you may need to cancel your physiotherapy appointment. In order to make sure that you're still getting the care that you need, we ask that you call the company representative at least 4 hours in advance. We would be more than happy to help you reschedule. Unfortunately, appointments can not be cancelled after the physiotherapist has already visited or is on their way.
Is it necessary for me to pay in advance?
At our company, we want to make sure that our patients are always our top priority. We have a policy in place where a small fee must be paid when scheduling an appointment for physiotherapy treatment services. However, we understand that life happens and sometimes people need to cancel their appointments. That's why we only require that patients cancel their appointments three hours in advance. We refund the token amount back to the patient's account as a gesture of good faith. Our customer service representatives are always available to answer any questions you may have about our policies.
Visit our clinic for consultation